| | | |
| --- | --- | --- |
| Table Pipe Cutting and Beveling Machine | | |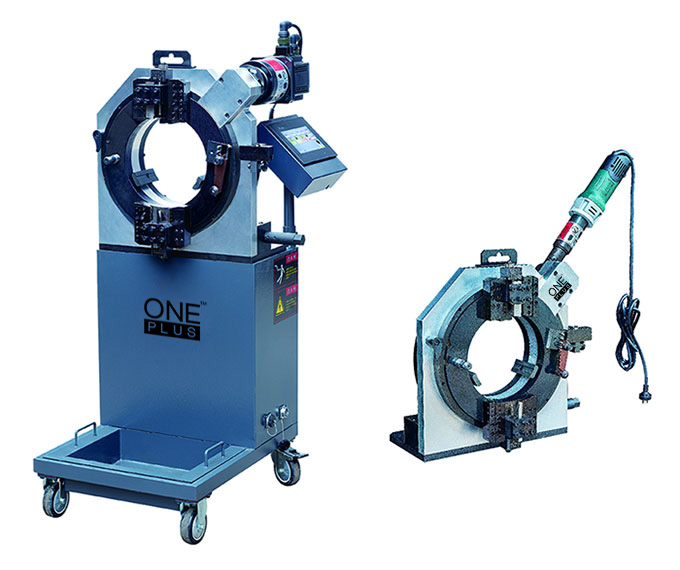 Product introduction: Product of OSE series Orbital Pipe Cutting Machine is generate from OSD series of our company, which is a perfect combination of our current mature out mounted pipe beveling machine. Solve the problem of four claws of out mounted pipe beveling machine can't centering, points clamping at the same time, deformation-free clamping system avoids pipe deformation, even for very thin pipe, match with standard cutting tools(HSS),Molding beveling tools.
The cutting system and cutter can be exchangeable with out mounted pipe beveling machine, automatically feeding, cutting and beveling for pipe thickness 4mm-15mm.
Can process material: carbon steel, alloy steel, stainless steel, non-ferrous metal, engineering plastic and carbon steel.
The selection of parameters and processing capacity:
| Electric | Pneumatic | Working Range(I.D.mm) | Wall thickness(mm) | Rotating rate(rpm) |
| --- | --- | --- | --- | --- |
| OSD-120 | OSF-120 | Ф20-121 | ≤15 | adjustable |
| OSD-170 | OSF-170 | Ф70-170 | ≤15 | adjustable |
| OSD-220 | OSF-220 | Ф120-220 | ≤15 | adjustable |
| OSD-320 | OSF-320 | Ф220-320 | ≤15 | adjustable |
| OSD-420 | OSF-420 | Ф320-420 | ≤15 | adjustable |
| OSD-520 | OSF-520 | Ф420-520 | ≤15 | adjustable |
| OSD-620 | OSF-620 | Ф520-620 | ≤15 | adjustable |
| OSD-720 | OSF-720 | Ф620-720 | ≤15 | adjustable |