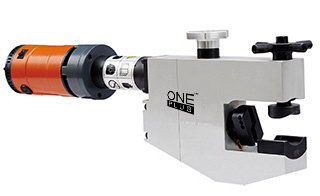 Product Name:C-NARROW DESIGN PIPE BEVELING MACHINE ISC-63
Features:This machine is designed for pipe end bevelling of small diameter, pipe out-mounted compact installation. It is used in pipe end bevelling process of professional equipments and on-site overhaul, e.g. water cooled wall, overheater, reheater, fuel economizer, boiler and fire thermo electricity, etc. It meets the requirement of process: narrow space of on-site repair and large scale of repairing.
PERFORMANCE:High-quality bevelling tool which can process different grades of carbon steels, alloyed steels, stainless steels, and other materials of metal pipes.An outside caliper is fixed in proper position, simple and light, precise centering, steady mount and convenient operation.It is equipped with exclusive motor made by Germany Metabo Company, with excellent performance and durable use.
DRIVEN TYPE: Electric model: this machine adopts exclusive motor to drive Voltage 220V, Frequency 50-60Hz, Power 1.40KW.
Pneumatic model: This machine adopts pneumatic motor to drive, air working pressure 0.8-1.5Mpa, air consuming flux 1000-1500L/min. It is used for inflammable and dangerous operation places.
ECHNICAL PARAMETER:
| Electric | Pneumatic | Working Range(I.D.mm) | Wall thickness(mm) | Rotating rate(rpm) |
| --- | --- | --- | --- | --- |
| ISC-53 | TSC-53 | Ф8-53 | ≤8 | 56 |
| ISC-63 | TSC-63 | Ф28-63 | ≤12 | 52 |
machine other bevel angles or alloy steel, cast steel, please declare before purchase order